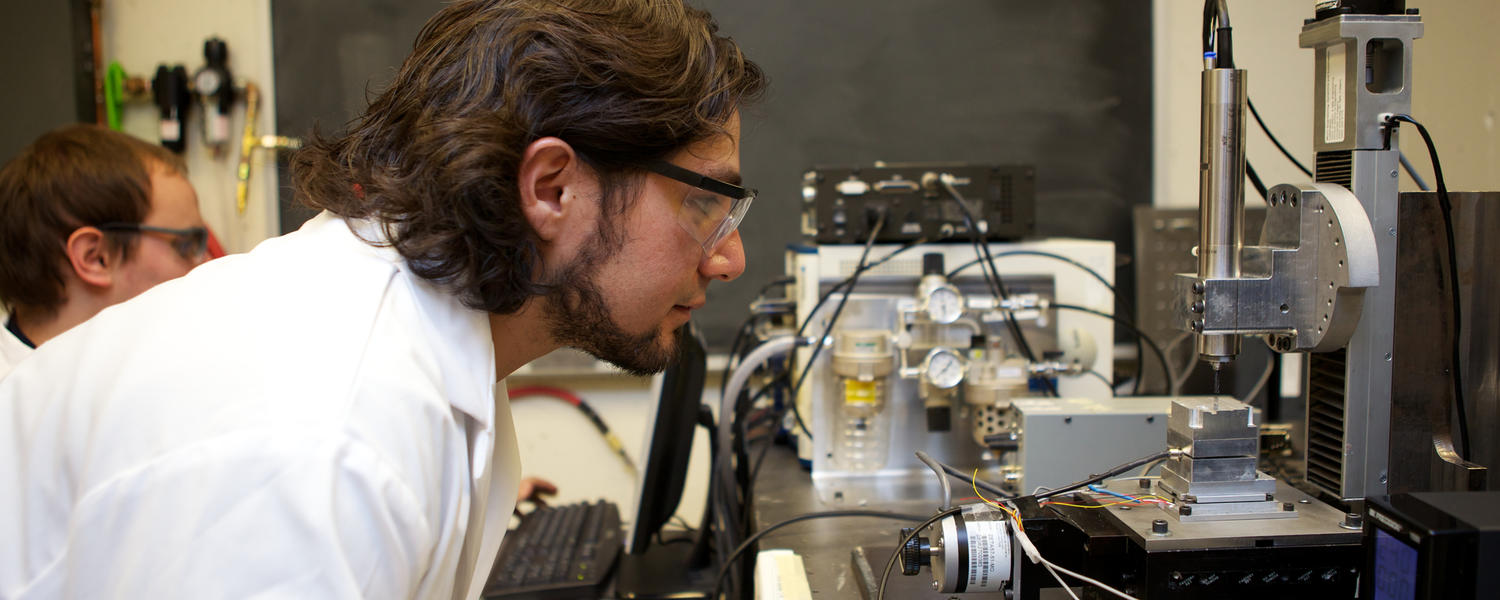 Mechanical and Manufacturing Engineering
Master of Science (MSc)
Thesis-based program
Ambitious students can explore their interest and aptitude in performing research by taking the Mechanical and Manufacturing Engineering (MSc Thesis) degree. As a stepping stone to the PhD degree, the program allows students to investigate a new research topic in depth with a leading researcher in the mechanical engineering program. Through things such as conferences, peer-reviewed publications and technical papers, students get to disseminate knowledge. They will complete technical courses, present at a conference, and prepare and defend a thesis documenting their research over the course of their two years of full-time study. Students are typically funded through the duration of their study under various mechanisms offered by the faculty, department, and supervisor.
Completing this program
Manufacturing Engineering: Topics may include computer integrated manufacturing, optimization methods with robotics, CAD/CAM/CAE and more.

Mechanical Engineering: Topics may include combustion processes, mechanics of compressible flow, instrumentation, mobile robotics and more.

Research Seminar: Students present at the annual Mechanical Engineering Graduate Student Conference.

Additional Courses: Students complete Numerical Methods for Engineers.

Thesis: Students will be required to submit and defend an original research thesis.

Pipeline Engineering Specialization: Students wishing to complete the Pipeline Engineering Specialization must include three courses of Pipeline Engineering approved courses with a Pipeline Engineering project.
Specializations
Outcomes
Consulting, research and development, forensic engineering, management, process control.
A thesis-based master's degree in mechanical engineering will give you the pre-requisite for a PhD.
Supervisors
Learn about faculty available to supervise this degree.
Please note: additional supervisors may be available. Contact the program for more information.
GPA
A minimum of 3.0 GPA on a 4.0 point system, over the past two years of full-time study (a minimum of 10 full-course equivalents or 60 units) of the undergraduate degree.
Minimum education
A four year baccalaureate degree, or equivalent from a recognized institution.
English language proficiency (ELP)
An applicant whose primary language is not English may fulfill the English language proficiency requirement in one of the following ways:
Deadlines
For admission on September 1:
Canadians and permanent residents: June 1 application deadline
International students:  Jan. 15 application deadline
For admission on January 1:
Canadians and permanent residents: Oct. 1 application deadline
International students:  May 1 application deadline
If you're not a Canadian or permanent resident, or if you have international credentials, make sure to learn about international requirements
Learn more about this program
Related programs
If you're interested in this program, you might want to explore other UCalgary programs.