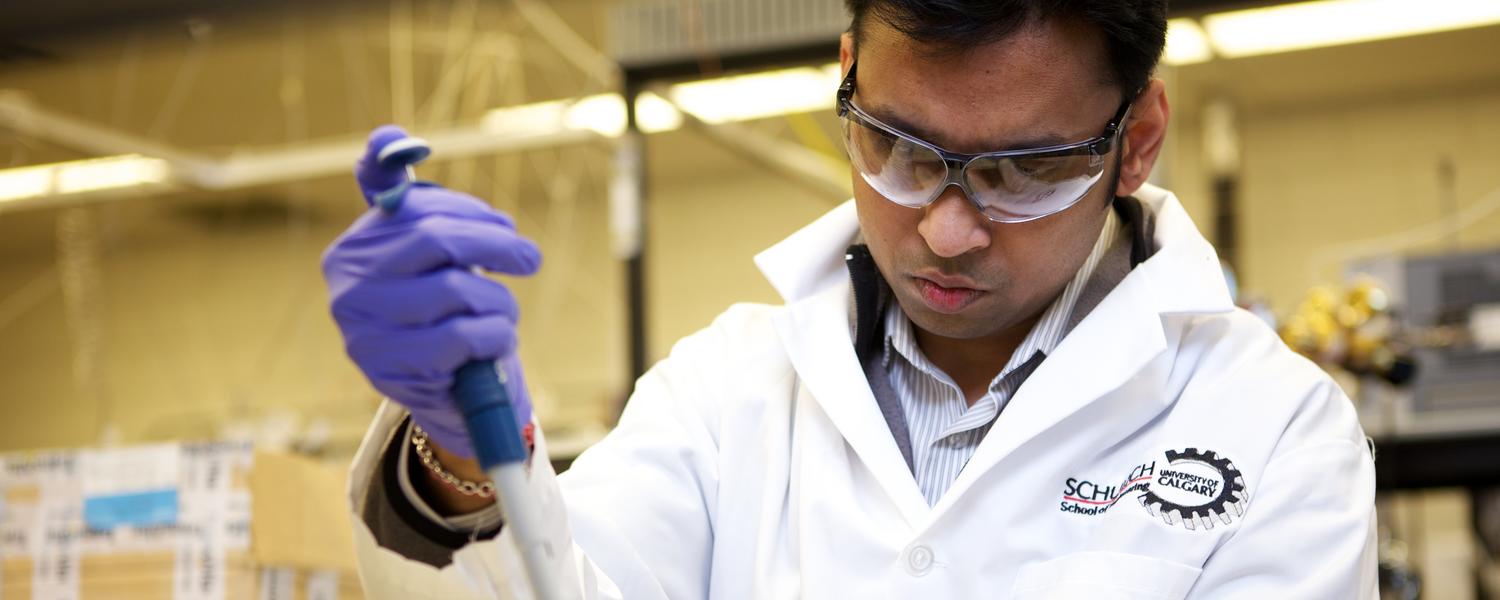 Chemical and Petroleum Engineering
Master of Science (MSc)
Thesis-based program
As a degree that is typically the first step toward a career in research, the Chemical and Petroleum Engineering (M.Sc) program is designed to give students the firm foundation they need to achieve greater things. Besides taking courses in chemical/petroleum engineering fundamentals, each student produces and defends a thesis. Engineering fundamentals are usually the thesis topics for the M.Sc. This focus stands in contrast with the M.Eng. thesis, which is typically aimed on an industrial problem.
Completing this program
Courses (Excluding Petroleum Engineering): Topics may include mass transfer, chemical reactor design, heat transfer, fluid mechanics and more.
Professional Development Courses: Students take two professional development courses on communication styles, presentation skills and more.
International Internship: Students may participate in an international project outside of Canada for between four and six months.
Petroleum Engineering: Core courses include Reservoir Simulation, Secondary and Tertiary Recovering, Thermal Recovery Methods and more.
Thesis: Students will be required to submit and defend an original thesis.
Specializations
Chemical Engineering
Petroleum Engineering
Biomedical Engineering (thesis-based only)
Outcomes
Oil and gas, medicine, education, government sector, research and consulting. Process engineer, petroleum reservoir engineer, petroleum production engineer, environmental engineer, software development, documentation for chemical process/petroleum reservoir simulation software, sales.
A master of science degree in chemical and petroleum engineering will give you the pre-requisite for a PhD.
Supervisors
Learn about faculty available to supervise this degree.
Please note: additional supervisors may be available. Contact the program for more information.
GPA
A minimum of 3.0 GPA on a 4.0 point system, over the past two years of full-time study (a minimum of 10 full-course equivalents or 60 units) of the undergraduate degree.
Minimum education
A four year baccalaureate degree, or equivalent from a recognized institution.
Documents
Two official copies of your final official transcripts and degree certificates (if degree is not clearly stated on transcripts) in signed sealed envelopes from institution attended. These documents may be sent to us directly from the institution or you can have the documents mailed to yourself and then mail them to us. We do not considered open official transcripts as official.
Statement of Interest (not mandatory)
CV (not mandatory)
English language proficiency (ELP)
An applicant whose primary language is not English may fulfill the English language proficiency requirement in one of the following ways:
Deadlines
For admission on September 1:
Canadians and permanent residents: July 15 application deadline
International students: Mar. 15 application deadline
For admission on January 1:
Canadians and permanent residents: Nov. 15 application deadline
International students: July 15 application deadline
For admission on May 1:
Canadians and permanent residents: Mar. 15 application deadline
International students: Nov. 15 application deadline
If you're not a Canadian or permanent resident, or if you have international credentials, make sure to learn about international requirements
Learn more about this program
Related programs
If you're interested in this program, you might want to explore other UCalgary programs.