Graduate Orientation
At Graduate Orientation (GradO) you'll discover the resources and meet the people that will help you succeed at the University of Calgary
87% of students feel better prepared for graduate school after attending GradO, and 96% of survey respondents said the content was helpful.
The next graduate orientation (GradO) takes place January 3, 2024 from 1 - 4 p.m. (MT) in ENC 070.
Please note that you will be enrolled in a D2L module a week before orientation called Graduate Student Orientation (GradO) and a recording of the orientation will be posted there at a later date. If you do not see an Orientation module, please email GradO@ucalgary.ca.
You can also watch orientation videos to help answer some of your questions - see below.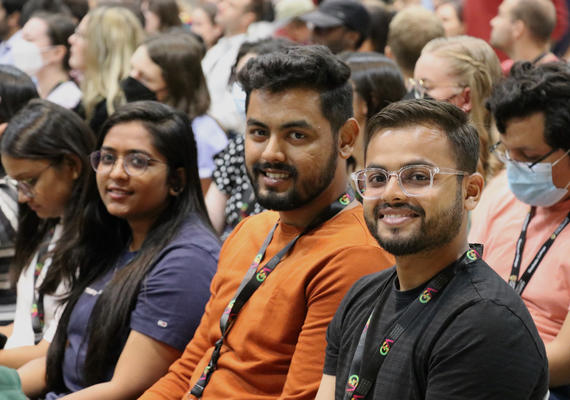 GradO D2L module
As you prepare to start your program, be sure to check D2L for a comprehensive list of resources for graduate students. 
This module will be available one week prior to the GradO event.
Winter Graduate Orientation Agenda
Join us on January 3, 2024 for day filled with informative sessions, networking opportunities, and engaging activities to kickstart your academic journey.
 
Time
Location

GradO Check-in and Registration

1 p.m. to 1:30 p.m.

GradO Welcome and Introduction

1:30 p.m. to 1:40 p.m.

Faculty of Graduate Studies (FGS) and

Graduate Students' Association (GSA) Information Session

1:40 p.m. to 2:45 p.m.
Refreshment Break/Service Fair
2:45 p.m. to 3:15 p.m.

Lobby outside of ENC 070

GSA Social Event (Optional):

Course-based Students

3:15 p.m. to 4 p.m.
GradO Bonus Thesis Session
3:15 p.m. to 3:45 p.m.

GSA Social Event (Optional):

Thesis-based Students

3:45 p.m. to 5 p.m.