Graduate Orientation
At Graduate Orientation (GradO) and International Student Orientation you'll discover the resources and meet the people that will help you succeed at the University of Calgary
87% of students feel better prepared for graduate school after attending GradO, and 96% of survey respondents said the content was helpful.
Fall 2022 GradO and International Student Orientation
GradO is your introduction to life as a UCalgary graduate student. Learn about tuition fees and funding, finding and applying for scholarships, workshops and resources, building a relationship with your supervisor and much more! Past students report that they found GradO to be essential in helping them get off to a successful start in their programs.
For International Student Orientation, International Student Services (ISS) will present information on topics such as immigration, work regulations for employment, Canadian classroom culture, getting settled in Calgary, and social programming for students.
This year's orientation events will be in-person. If you are unable to attend this year's GradO event, don't worry, it will be live-cast and a recording will be available to watch at your convenience. You can also watch orientation videos to help answer some of your questions. Learn more about GradO and watch our orientation videos here.
Note: The International Student Orientation presentation will not be live-cast but a pre-recorded version will be made available online.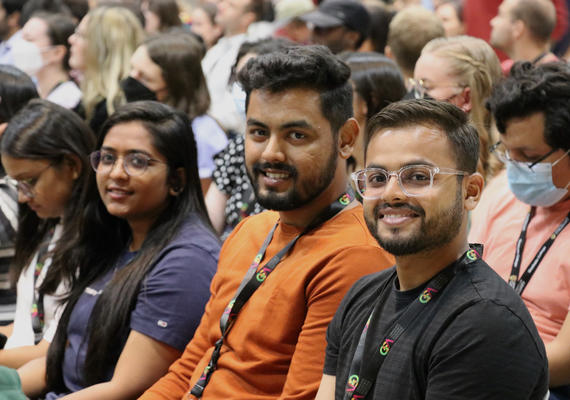 Thank you for Attending Graduate Orientation
Be sure to check D2L for a comprehensive list of resources for graduate students. We will also be posting a recording of the August 31 event on the Graduate Orientation D2L. If you cannot access the D2L module, please email GradO@UCalgary.ca.
Important information for getting started
Watch for the GRADpost
This is the Faculty of Graduate Studies' weekly newsletter to grad students. It highlights all the important news, upcoming awards, workshops and deadlines to help you succeed in your program. You will automatically be registered to receive the GRADpost starting in September. 
Connect with International Student Services (ISS)
ISS provides advice and programs to support all international students adjusting to studies at the University of Calgary and to life in Canada. Learn more here. ISS has also launched the Pre-arrival Program on D2L. Access the course today to learn about the step-by-step instructions on completing important tasks as a new international student.
Access Your Graduate Orientation Module in D2L
D2L (Brightspace) is the online learning management system used by the University of Calgary.
The Faculty of Graduate Studies has created the Graduate Orientation D2L module. You will automatically be enrolled in this module a few days before orientation. Here you will find all of the information from GradO sessions including a comprehensive list of UCalgary resources such as writing support, health and wellness, and more.
Contact your Graduate Program Administrator (GPA) 
GPAs are your program contacts who handle program-specific forms, requests, administration and processes. Talk to your GPA about registration, funding, courses and documents you will need.  You can contact your GPA by looking up your program's contact information here. 
Get your Unicard
Student cards are available in person from the lower level of the Dining Centre, room 018 (DC018). Be sure to bring your your UCID number and a piece of government issued picture ID (e.g. driver's license, passport). Your Unicard has many uses, so don't forget it!
Register and enroll in courses
Check out our Registration FAQ and the Course Registration Guide.
Tuition & fees
Review the fees listed in your Student Centre and arrange for payment by the fee payment deadline. Learn about fees and funding here:
You can also learn about payment options here. 
Review the Graduate Studies Calendar 
This calendar is your go-to resource for looking up important dates, deadlines, fees and program expectations. See Faculty of Graduate Studies Calendar 2022 – 2023.
Apply for scholarships
Please review the Awards section of our website and the Graduate Award Database to build a list of awards that you qualify for. In September, work with your Supervisor or program contact to prepare and submit applications.
Learn about Teaching Assistant Orientation, Training and Resources
Do you anticipate working as a Teaching Assistant during your time at UCalgary? Learn about the Taylor Institute for Teaching and Learning. The Taylor Institute offers an online Learning Module for Teaching Assistant Orientation that you can complete at your own pace. 
Connect with your Graduate Students' Association (GSA) and sign up for their newsletter
The GSA is the voice of University of Calgary graduate students at UCalgary and to all levels of government. The GSA supports UCalgary graduate students to succeed academically and socially through valued programs and services and responsive communication channels.
Sign up for the GSA newsletter to receive volunteering, internship opportunities and event updates to your mailbox! Sign up here.