Getting paid
Learn about receiving your funds, including payment start dates, payment schedule and earnings.
How to receive your money
Congratulations on being offered a graduate award! Payments are made directly to your bank account. To receive payment you must:
Award payments: Start dates
Payments normally start in May, September or January, unless otherwise specified by the funding agency. 
All major external awards must be taken up at the earliest possible start date when you are also holding an FGS award. Award start dates are determined by the funding agency, university, competition, award, student registration status and/or other funding held. Students cannot select the start date or payment schedule of an award administered through FGS.
Open Doctoral and Special Awards start in May, September or January
Program Recommended Awards start in September or January
When an external funding agency offers an award partway through the award year, there may be options for the award start date. When allowed by the external funding agency, you may choose to start the award in the term you were notified, the following term, or retroactively to the earliest possible date. When it is an external agency requirement, or it is your decision to take up the award retroactively, the late award may replace FGS scholarship payments already received.
Examples:
Meera R. was awarded a 2019 Program Recommended award to be paid from September 2019 to August 2019. Meera was then awarded a 2019 SSHRC CGS-Master's scholarship. As all external major awards must be taken up at the earliest possible start date when a student holds an FGS award, the SSHRC scholarship started in May 2019 at which time the Program Recommended award was cancelled.
Samwell T. was awarded a 2019 Open Doctoral Scholarship. When awarded to a continuing student, an Open Doctoral scholarship normally starts in May however because Samwell was being paid a CIHR Doctoral scholarship until August 2019, the Open Doctoral started in September.
Sansa S. was advised in March 2019 that she was an alternate for the 2019 NSERC Doctoral award. In September, Sansa was notified she was now a recipient and was required to start the award retroactive to May. Sansa had also been paid an Open Doctoral scholarship from May to August. As she was no longer eligible for the Open Doctoral scholarship is was cancelled retroactively. The Graduate Award Office managed the adjustment and transfer of funds and communicated the details to Sansa.
Questions about your options? Contact gsaward@ucalgary.ca
Payment schedule
By accepting payment, you agree to abide by the rules and regulations in this guide that govern graduate awards administered by the Faculty of Graduate Studies. If you fail to do so, the university will require that you repay the scholarship.
Payments are made in equal monthly instalments on the 25th of the month. If a granting agency directs payments through the Graduate Award Office, the payment will follow the FGS payment schedule, unless otherwise required by the agency.
The payment schedule applies to all awards in the Faculty of Graduate Studies, unless otherwise specified in the terms of reference for the award or otherwise required to align with the duration of the program.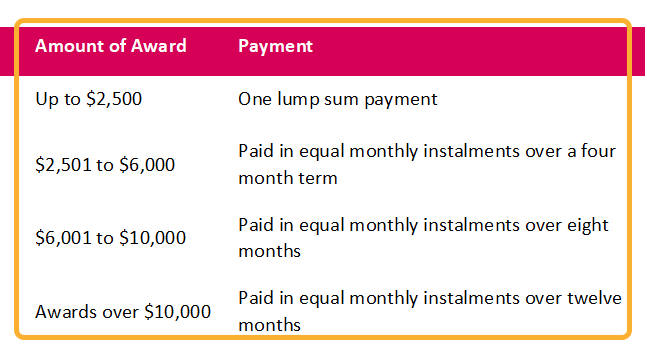 Know your earnings
Find out what you are being paid, and how much in a particular pay period by logging into your Student Centre. Navigate to your "Earnings Details Statement" for a breakdown: Dashboard > Student > My Financials > View Earnings Details.
If you have questions about what you have or have not been paid, contact the Graduate Scholarship Office at gsaward@ucalgary.ca or in-person. No appointment required.