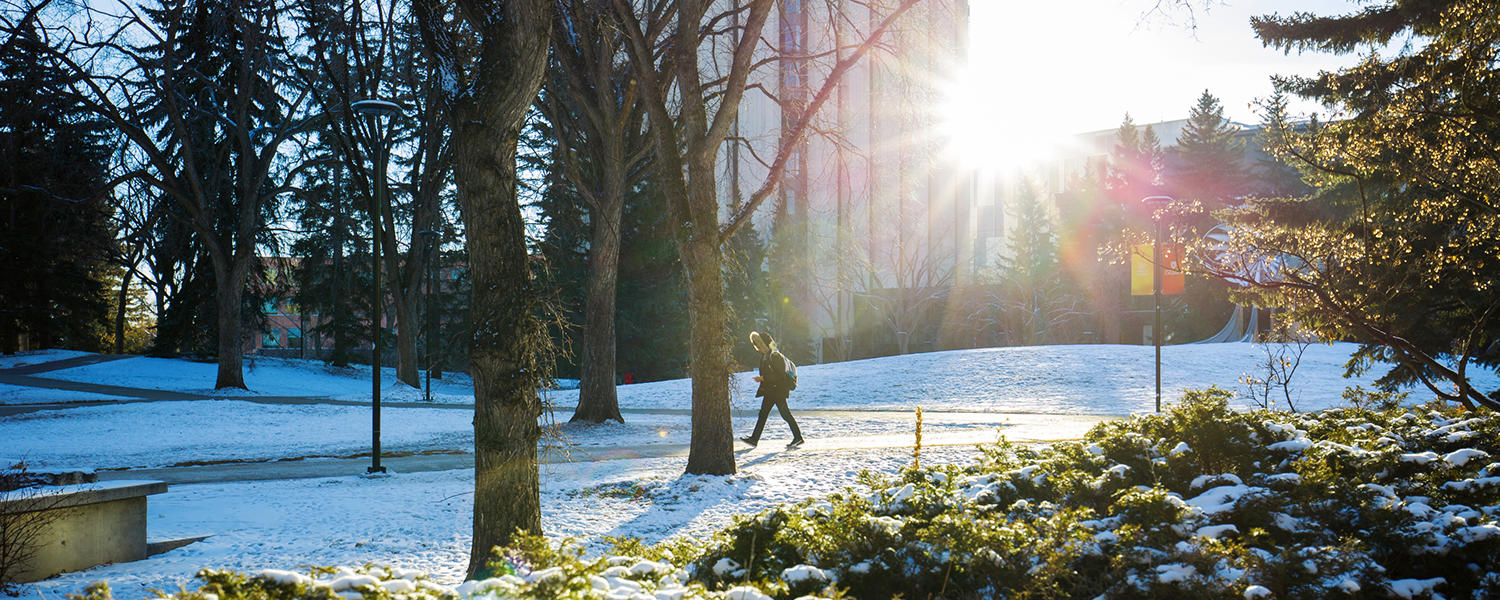 School and Applied Child Psychology
Master of Education (MEd)
Course-based program
This blended degree is designed for individuals who are intending to work as school psychologists or are interested in applied psychology in school or community settings. The mission of the program is to prepare school psychologists to be contributors and effective collaborators in enhancing learning and mental health outcomes for all individuals within a wide variety of settings. Core content of the program covers the topic areas of psychological foundations, assessment, intervention, consultation, school psychology practice and development, and statistics and research methods. As a course-based program, student learning is more focused on clinical practice, so core content areas are complemented by a 1,200-hour internship in school and/or community settings.
Weekly classes are offered in the evenings (5:30-8:30 pm MST) to accommodate individuals who work during the day. Theory-based courses are offered online, and on-campus residencies are required during the summer term of each year in the program.
Completing this program
Psychological Foundations: Course topics include professional ethics in applied psychology, family and social bases of behaviour, professional practice of school psychology (including a 2 week on-campus residency), and more.

Research and Program Evaluation: Course topics include psychological measurement and statistics, and fundamentals of measurement.

Capstone Course: Students demonstrate a comprehensive understanding of competencies in ten domains central to the school psychology profession.

Assessment, Intervention and Consultation: Course topics include academic and language assessment, cognitive assessment, school-based intervention and consultation, and more.

Field Experience Practicum: Students complete a practicum in academic and cognitive assessment and in social, emotional and behavioural assessment.

Internship: A 1,200 hour internship integrating and applying school psychology competencies.
Outcomes
School psychologists, school leadership, applied psychology, community and non-governmental agencies, career advancement, school district administration, universities, school-based health/mental health centers, community-based day treatment or residential clinics/hospitals, juvenile justice programs.
A course-based master's degree in school and applied child psychology is usually considered a final degree.
GPA
A minimum of 3.0 GPA on a 4.0 point system, over the past two years of full-time study (a minimum of 10 full-course equivalents or 60 units) of the undergraduate degree.
Minimum education
A four year baccalaureate degree in Education or Psychology or an equivalent degree from a recognized institution.
Required courses
A minimum of 30 credit units in psychology or educational psychology required.
Please note that the selection committee is looking for a background in psychology that includes foundational courses (e.g., development, cognition, learning, neuropsychology, statistics). Students must achieve a minimum grade of B- on the prerequisite courses for them to be considered as having met the requirements for successful completion. Any prerequisite course with a grade below a B- will not be accepted towards the prerequisite coursework requirements.
Documents
Statement of Intent - A short statement of research or professional interests, which includes motivation and commitment to School Psychology and relevant experience with children and adolescents. (approx. 500 words)
Work samples
C.V. or personal resume documenting professional experience.
English language proficiency
An applicant whose primary language is not English may fulfill the English language proficiency requirement in one of the following ways:
Deadlines
For admission on July 1:
Canadians and permanent residents: Dec. 1 application deadline
International students: Dec. 1 application deadline
If you're not a Canadian or permanent resident, or if you have international credentials, make sure to learn about international requirements
Learn more about this program
Related programs
If you're interested in this program, you might want to explore other UCalgary programs.