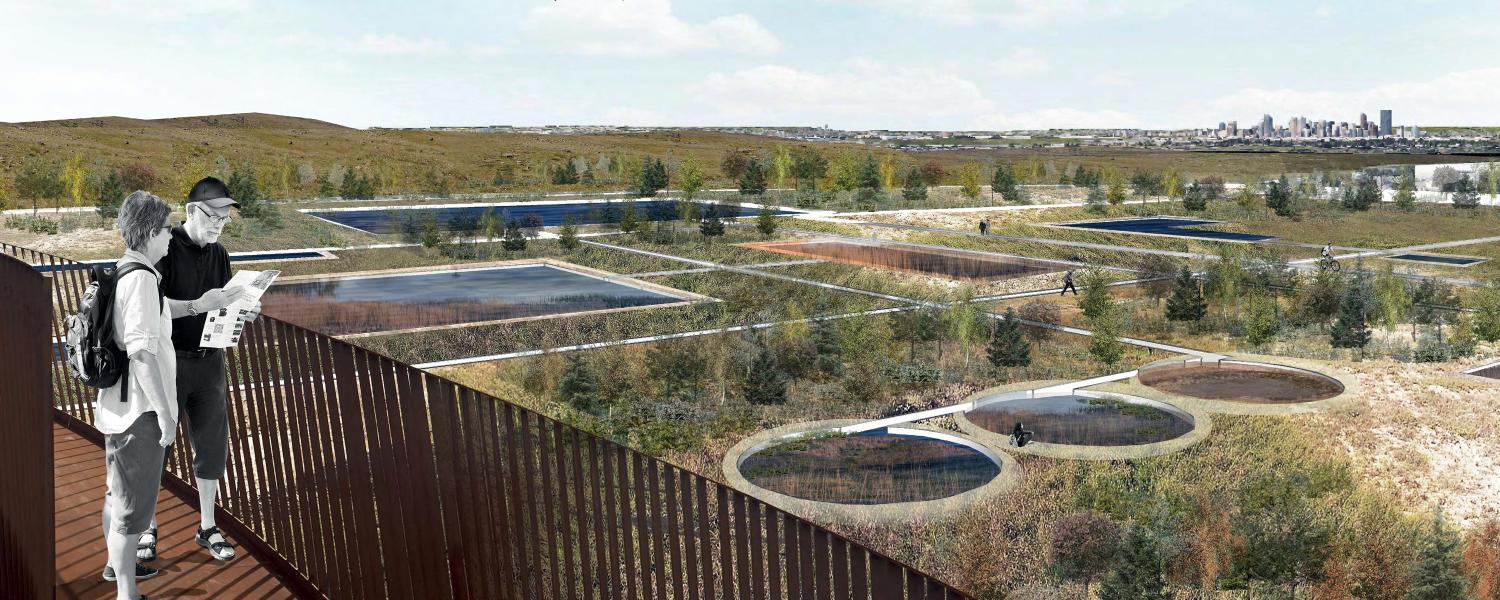 Landscape Architecture
Master of Landscape Architecture (MLA)
Course-based program
Come and be part of Canada's newest school of landscape architecture. Launched in 2015, SAPL offers Alberta's only professionally accredited Landscape Architecture degree and the program is creating leaders in sustainability and design. Landscape architects provide innovative solutions to environmental and urban challenges. The profession is growing to include a wide range of areas at different scales from residential to regional. This includes urban design, public spaces, parks and recreation, climate change adaptation, water resources management, transportation, and habitat restoration. Our full-time faculty includes professional landscape architects, planners, architects and landscape ecologists, whose overlapping expertise contributes to a strong curriculum that combines a solid foundation in the field with 21st-century design challenges.
You will hone most of your skills in our unique interdisciplinary design studios, tackling real-world projects to develop integrated design solutions. In one of your senior semesters, you could also learn in an international context. 
Completing this program
Foundation Year: Required for applicants without a landscape architecture undergraduate degree.
Core Courses: Studio courses in each term ; other topics include site technology, history and theory, winter city design and more.
Additional Courses: Four elective courses.
Outcomes
Landscape architectural engineering, architectural and planning firms; private corporations with planning or design departments; federal, provincial, regional, and municipal agencies; development companies; historic preservation authorities; faculties and departments of landscape architecture, architecture, art, and planning.
The course-based Master of Landscape Architecture degree is accredited by Landscape Architectural Accreditation Council (LAAC) of the Canadian Society of Landscape Architects (CSLA). Students can also continue their academic studies by pursuing the Master of Environmental Design (MEDes) degree.
GPA
A minimum of 3.0 GPA on a 4.0 point scale, over the last two years of study (a minimum of 20 courses or 60 units) of the undergraduate degree.
Minimum education
A four-year baccalaureate degree, or equivalent from a recognized institution.
Documents
Applicants are required to submit a digital application package consisting of 1) a digital portfolio, 2) a resume/CV, and 3) a statement of interest. These documents should be submitted as a single .PDF document with a cover letter (include your full name) and a table of contents for clarity. The package should be uploaded to the Student Centre following submission of an online application. Additional descriptions, specifications, and details about the digital portfolio, resume, and statement of interest can be found on the School of Architecture, Planning and Landscape website at: https://sapl.ucalgary.ca/future-students/admissions/mla.
Foundation year
Applicants with previous related design degrees (e.g. a Bachelor of Landscape Architecture) may have some or all of the foundation year courses waived. Applications will be evaluated on a case-by-case basis, this review will require supporting documentation such as course outlines. An assessment of these prerequisite requirements will be made by an admissions committee and applicants will be informed in offers of admission which, if any, courses at the Foundation level will be required.
English language proficiency
An applicant whose primary language is not English may fulfill the English language proficiency requirement in one of the following ways:
Deadlines
For admission on September 1:
Canadians and permanent residents: Jan. 15 application deadline
International students: Jan. 15 application deadline
If you're not a Canadian or permanent resident, or if you have international credentials, make sure to learn about international requirements
Learn more about this program
Related programs
If you're interested in this program, you might want to explore other UCalgary programs.