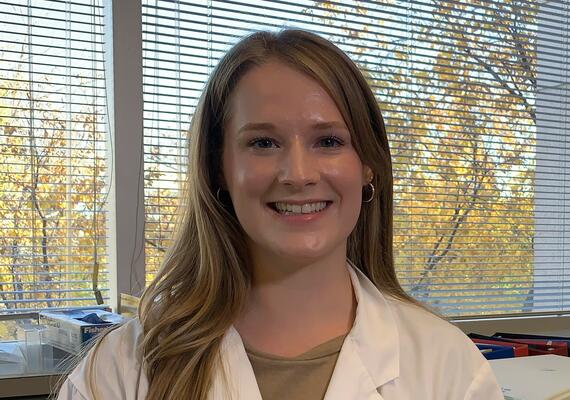 Congratulations to 2023 UCalgary 3MT winner Dana Lowry!
Dana won the UCalgary 3MT competition and took second place in Western Regionals. She will represent UCalgary at the national competition in Victoria, BC on November 10, 2023. 
Your thesis, three minutes, one slide
The Three Minute Thesis (3MT) is an internationally recognized research communication competition. Participants have three minutes to deliver a compelling presentation on their thesis research for a general audience using a single, static slide.
The 3MT helps graduate students develop skills in translating their research and its impact for non-specialists. This skill is becoming essential for many purposes:
Funding proposals
Transitioning into employment
Generating interest in, awareness of and support for academic research
Communicating with confidence and clarity to diverse audiences
The University of Calgary 3MT takes place each year during the winter term. Registration opens in February, with heats taking place in March and finals in April.
"The UCalgary 3MT is a unique experience because most public speaking opportunities in grad school are tailored to audiences within academia, while the 3MT is for general audiences. It has also helped me disseminate my research to not only academics and scientists, but also to patients, families, and the wider community."
Samiha Mohsen, 2020 UCalgary Virtual 3MT finalist
Master's student, community health sciences
UCalgary on the national stage
To date, six UCalgary 3MT winners have qualified for Canadian Nationals resulting in two national champions and one national People's Choice award winner, making the University of Calgary the most accomplished institution in the history of Canada's 3MT competition.