Shuvolaxmi Dutta
Master of Science in Chemical and Petroleum Engineering
Schulich School of Engineering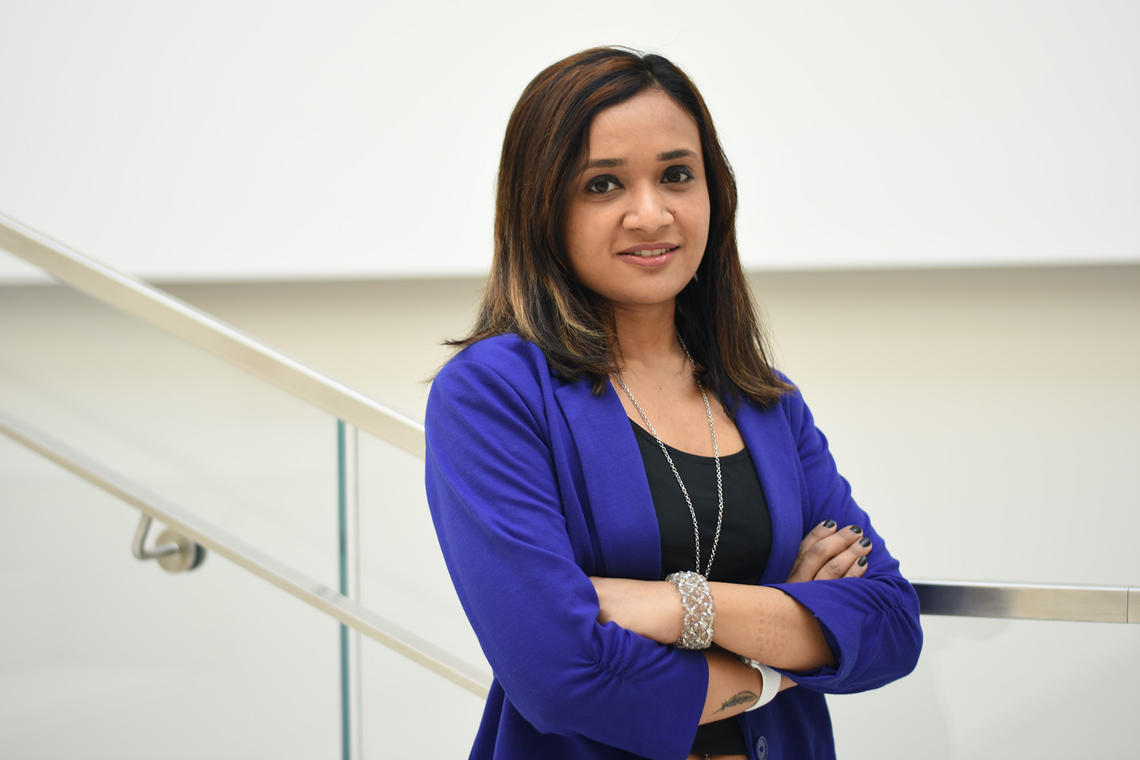 Photo courtesy of Shuvolaxmi Dutta
My study will help researchers who are working with heat transfer process in porous medium with multiple phases. It will also benefit engineers from geoscience to food and pharmaceutical industries as well.
What are you currently working on?
My research work is related to oil recovery from deeper oil sands deposits.
Steam Assisted Gravity Drainage (SAGD) process is a method where high pressure steam is used to reduce oil viscosity and thus increase its recovery rate. This process requires huge quantity of steam and steam production involves high cost coupled with huge green house gas (GHG) emission. It has been observed that if non-condensable gases (NCG) (like nitrogen, methane) is co-injected with steam in the reservoirs, the steam requirement drastically gets reduced. But this alters the thermal properties of the system.
So here, my research comes in play.
I am replicating SAGD reservoirs conditions in my lab to get the thermal conductivity (heat transfer property of a system) at different temperatures and pressures. 
Have you always wanted to go to grad school?
Yes. I always wanted to pursue higher studies. After I finished my undergraduate degree from India, I was working as a Process Engineer in a process design company. Then I moved to Canada after my marriage and I found the best way to start my career here is to pursue post-graduation which will take me towards application of Mathematics, the field of study which I always wanted to pursue. Also, I felt that this will give me an exposure to Canadian education system and work culture.
Where would you like to be in ten years?          
I want to work in a research lab or in a process development field in future. I will be more than happy if in ten years, I manage to develop processes which are environmentally and economically sustainable, along with strengthening the economy of Canada.
Other than this, I think that situations are changing very fast around us. Automation and Artificial Intelligence is rapidly picking up pace. I want to keep myself updated in these regards as well, so that after ten years I should be able to stand in the competition.
What does success look like for you?
I acted in the play "The Vagina Monologues" in 2018 with Women Resource Centre, University of Calgary. I am also going to act in the play this year as well.
This was an unbelievable experience for me. I learned about the various circumstances that the women around the world go through and I felt so satisfied within myself that I was a part of the "MeToo" movement. I strongly believe that the world could be a much better place if women get the respect they deserve. This play helped me to build confidence and gave me a sense of independence.
My friends feel that whenever they need a shoulder, I will always be there for them. They know that I am a very compassionate person, a true feminist who believes in women empowerment, and am up to trying something new always.
What is the most challenging part of being a grad student?
I feel the most challenging part for a grad student is to balance time between professional and personal life.
I talk to my family regularly and explain to them what I go through at the university. I describe to them in detail what is going on in my lab, which gives them a better understanding about a grad student's life. Also, this helps them realize how much they can expect from a grad student.  After I return home, I mostly stay away from gadgets and spend quality time with my family and we share the household chores.
Have you experienced any set backs while in grad school?
When I first started my lab work, I was a newbie in dealing with lab equipment.
While working with my needle probe (a very delicate thing which I am using for my experiment), it broke down. The needle probe is the main part of my experimental setup and is very expensive. I talked to my supervisor and explained everything to him in detail. He told me that it is not uncommon for a student to break an experimental equipment.
This was a major set back that delayed my experiments and research work. The reordering of a new needle probe was not an easy story either. When it came after 3 months, we realized that the probe company had sent us a longer needle. My supervisor advised me to keep the longer one as that would give more accurate results and instead start redesigning the system. So we redesigned the whole experimental setup, that is the pressure vessel, the thermal bath and the list continues.
The only thing that kept me going was patience and undoubtedly the ultimate support from my family. If I managed to get some time I involved myself in professional development workshops and in cultural activities.
How did you meet your supervisor?
I was initially in the MEng (course-based) program. I wanted to conduct research and my preferred areas were heat transfer, mass transfer and flow in porous medium. So, one of our family friends told me that my supervisor is taking students under him and is conducting studies that are in line with my interest areas. I talked to him and he agreed to supervise me.
My supervisor has guided me far beyond my expectations.  In fact, I just love the student friendly environment of University of Calgary.
Have you attended any grad-specific academic or professional development workshops?
Yes, I have attended the My Gradskills career development workshops and I also attended the APEGA workshops. I think the APEGA workshop that is coming up soon is a great event to build confidence through mock interviews and rapid resume checking.
Why grad school?
To improve my career options in my chosen field and gain exposure to the Canadian education system and work culture.
Why UCalgary?
I just love the student friendly environment.
Success is...
Trying something new or unexpected. It builds my confidence and sense of independence. 
On dealing with setbacks
Practice patience and refocus by taking workshops or getting involved in student activities.
On finding balance
Disconnect from technology and spend time with my family.
Music for relaxation
I love soft, subtle and relaxing music most of the time. I like songs by Ed Sheeran and George Ezra.