Eduardo Cobo, DVM, MSc, PhD
PhD in Comparative Pathology School of Veterinary Medicine University of California Davis, US
M Sc in Comparative Pathology School of Veterinary Medicine University of California Davis, US
Doctor Veterinary Medicine Faculty of Veterinary Medicine University of La Plata, Argentina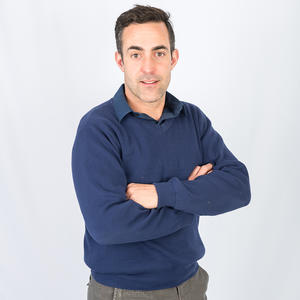 Areas of Research
Innate epithelial defenses
Research in my laboratory is directed towards elucidating epithelial defensive mechanisms and their involvement in preventing harmful inflammatory responses and controlling infections. I am particularly interested in host defense peptides (HDPs) secreted by neutrophils and epithelial cells, particularly cathelicidins, which are abundantly expressed in mammalians. My aim is to study the role of HDPs in the pathogenesis of disease to decode how the innate system avoids damaging inflammation associated with pathogen persistence. This deeper understanding of the biology of HDPs in the intestine, skin and mammary gland is helpful to develop more effective alternative natural therapeutics against disease.
Supervising degrees
Veterinary Medicine Doctoral: Accepting Inquiries
Veterinary Medicine Masters: Accepting Inquiries
Gastrointestinal Sciences Masters: Accepting Inquiries
Immunology Doctoral: Accepting Inquiries
Immunology Masters: Accepting Inquiries
Microbiology and Infectious Disease Doctoral: Accepting Inquiries
Microbiology and Infectious Disease Masters: Accepting Inquiries
More information
Working with this supervisor
Doctoral Recruitment- Host Defense Peptides in the Pathogenesis of Inflammatory Intestinal Diseases. Job Summary. A Ph.D. student position awarded by the prestigious Eyes High Doctoral Recruitment Scholarship funding at Univ. of Calgary is available to provide 4 years of funding for either domestic or international student. The research aim of this student will be to investigate the production and antimicrobial and immune modulatory functions of host defense cathelicidin peptides innately secreted by the intestinal epithelium and surrounding neutrophils in intestinal homeostasis and disease. These peptides are important components of the epithelial innate immune system in humans and livestock animals, with still unknown roles controlling infection and mitigating inflammatory responses. The goal is to advance cathelicidins as natural and effective alternatives to current treatments for enterocolitis that could reduce the use of conventional antibiotics. Our approach includes studies conducted in cultured intestinal cells and leukocytes and murine models deprived of cathelicidins to determine mechanisms of action of cathelicidins. The University of Calgary recently ranked among the world's top 50 universities under 50 years of age. Calgary, a vibrant, multicultural city (population >1,000,000) is ranked the world's fifth most livable city. Qualifications. BS or MS in a pertinent area (e.g., medicine, biomedical science, immunopathology, molecular biology) is necessary. Ability to work independently with good communication skills in English is needed. Experience in immunology or molecular biology, animal models, and lab techniques (e.g., qPCR, immunofluorescence, western blotting, ELISA, cell culture) are desired. Apply. Send your CV, a letter stating your experience and two letters of reference to Dr. Eduardo R. Cobo (Veterinary Medicine, Univ. of Calgary, Canada) at +1 (403) 210-7247 or ecobo@ucalgary.ca. Check our website for more information (http://www.ucalgary.ca/cobolab/)
Contact this supervisor
Complete the following form if you are interested in working with this supervisor for your Graduate Program. All fields are required, unless indicated otherwise.
Collection of personal information
Your personal information is collected under the authority of section 33(c) of the Freedom of Information and Protection of Privacy Act. If you have any questions about the collection or use of this information, please contact the Office of Advancement at digital@ucalgary.ca