Camila Aquino, MD, MSc, PhD.
Dr. Aquino is an MD from Brazil. She received Masters and PhD degrees in Neurology & Neurosciences at the Federal University of Sao Paulo. She completed a clinical fellowship in Movement Disorders at the University of Toronto, and a Master in Health Research Methods, focused on clinical epidemiology at McMaster University.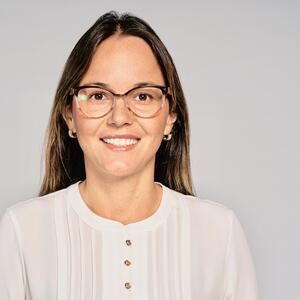 Areas of Research
Neuromodulation in Movement Disorders
Neuromodulation techniques involve the modulation or alteration of neuronal activity through the delivery of invasive or non-invasive stimulation. In my clinical research, I am exploring the use of different neuromodulation modalities, including Deep Brain Stimulation, to optimize the management of movement disorders such as Parkinson's Disease, Essential Tremor, and Dystonia.
Clinical Trials in Parkinson's Disease
My research focuses on addressing unmet needs in individuals with movement disorders. Through innovative trial design, precision-medicine approaches, and the use of patient-reported outcome measures, I aim to investigate interventions that can improve patient outcomes and quality of life.
Patient-Oriented Research
I am interested in research that is applicable to clinical care and that addresses outcomes that are relevant to patients and family partners. This entails identification of patient preferences, patient important outcomes, and patient-oriented clinical trials.
Supervising degrees
Neuroscience - Masters: Accepting Inquiries
Neuroscience - Doctoral: Unavailable
Community Health Sciences - Masters: Accepting Inquiries
Community Health Sciences - Doctoral: Unavailable
Working with this supervisor
I am currently accepting applications from Master's students for clinical research opportunities in my lab. For PhD positions, I can only consider candidates if a co-supervisor is available. I encourage you to explore our research interests and see if they align with your own. If you're interested in joining my team, please don't hesitate to get in touch with me. I look forward to hearing from you!