What is your degree, and program?  
PhD in mechanical engineering.
How many years have you been in your program?
I am in the second year of PhD program at the University of Calgary, while I am finishing my 14th year studying mechanical engineering.
Describe your research/area of study.
My research focuses on oil and gas pipelines.
What do you plan to do with your research/studies? How will your work impact your field/community/city/country?
The outcome of my research will affect the inspection process for oil and gas pipelines to avoid potential environmental disasters, aligned with the Alberta Energy and Utility Board's objectives.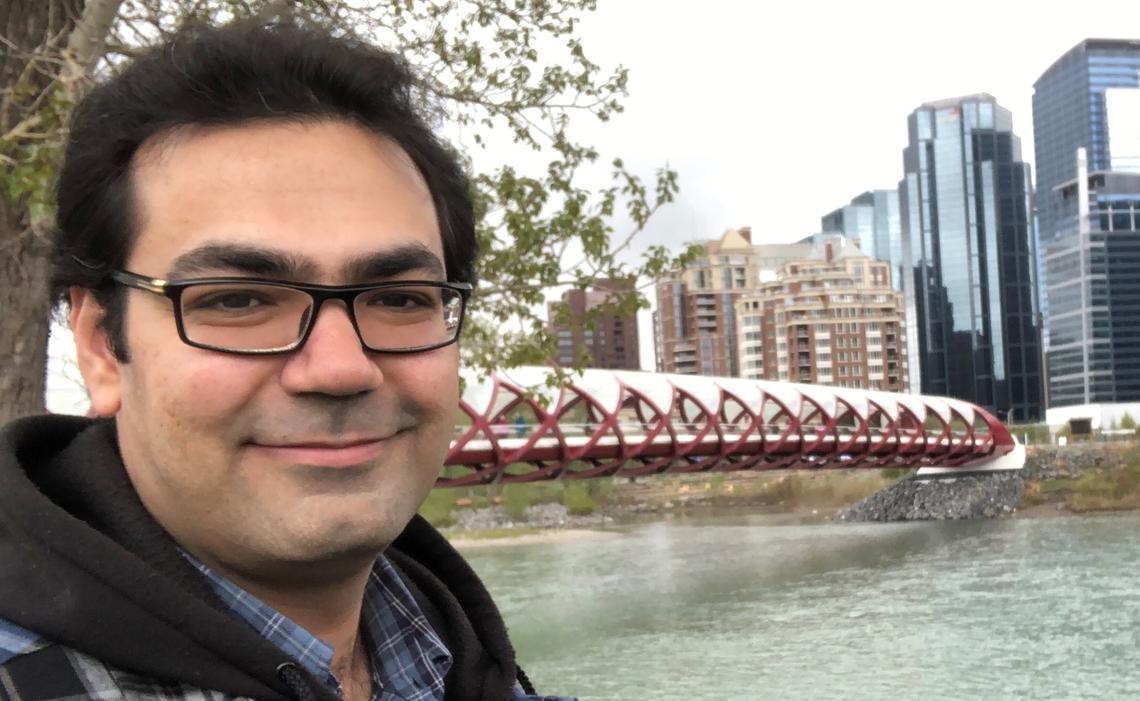 Image courtesy of Mohsen Hassani
Have you always wanted to go to grad school?
Yes, I have always wanted to pursue higher education in prestigious and remarkable universities around the world. When I was in high school, I was quite keen on science and research and participated in different national scientific competitions and Olympiads. After finishing undergrad, I was working as a research assistant (RA) in different research projects which led to valuable achievements. I am also pretty fond of teaching and I worked as a full-time instructor in a variety of technical courses after my master's degree. I believe having a higher degree provides me with a wide horizon of research topics and teaching opportunities.
Where would you like to be in ten years?             
Right here, as a professor with well-equipped labs, great research topics and greater students. I am really interested in research and academic environments. These environments are dynamic, up-to-date, and inspiring, and have a good relation with industries; they could be more practical and targeted.
Describe something unique about yourself or your life.
I always strive to be kind, compassionate and effective. I have always tried to have a clear vision of my goals and to do my best to reach them.
What does success look like for you? 
Success means inner peace and satisfaction with my own performance at any given time. Success can have a different meaning at every stage of life, from achieving short-term goals to a great one. But, what has brought me a sense of accomplishment throughout my life is a sense of peace and inner satisfaction from human action under any circumstances. Sometimes being in an environment and society may impose limits on a person, but what is always important for me is the sense of being the best of myself.
What is the most challenging part of being a grad student and how do you manage those challenges?
In addition to worrying about my current projects, I feel concerned about my future too. In this uncertain job market, and with academic jobs being intensely competitive, there is no guarantee that graduating with a PhD will bring me a desirable job. On top of that, as a grad student, one is expected to improve the existing research in a novel approach, while the applied techniques and methodologies in many industries are not high-tech. So, it is necessary to improve my transferable skills during my PhD, helping me to get an industry job.
How do you balance your work and social life?
Balancing between work and social life plays a vital role in someone's success, I think. So, besides my academic activities, I have tried to be a part of the community by doing some volunteering and extracurricular activities. This helped me to have a sense of belonging, and a break from work. I would also like to have a part time job and take part in various volunteering activities to become familiar with new societies and to have an even small impact on the community. I also like to do outdoor activities such as hiking and team sports, providing me with a golden opportunity to meet new people and find new friends.