All thesis-based graduate students registered in the winter term are required to submit the online progress report annually to comment on achievements during the past 12 months.This includes: courses completed, grades received, scholarships, research progress, papers submitted, conferences, etc. Academic plans for the upcoming year must also be indicated. 
To access the report, log in to your Student Center and click on Annual Progress Report.
Note: The To-Do list displays all your pending items but you should always access the report through the Annual Progress Report tab.
Note: There is a time out feature. Be sure to use the save button often to avoid losing your inputs. You can continue to add/edit your report until you are ready to submit.

Choose a report and click the Select button.
The Annual Progress Report auto populates the Name, Empl ID (UCID), From Term, To Term, Status, Contact and Academics information fields.

The Academics section of the page displays the Anniversary Month, Academic Load, Year in Program, Academic Program, Area of Study, Supervisor/Interim Supervisor, Co-Supervisor, Student Courses and Student Awards Received. This information cannot be edited.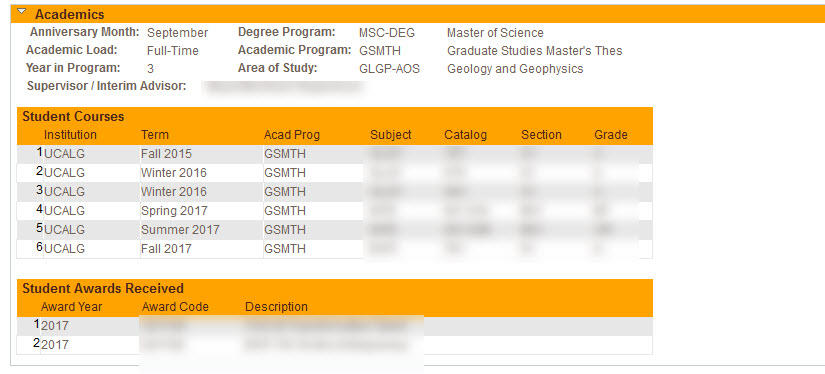 "Student's plans for the upcoming year from previous progress report" is populated based on the previous year's Annual Progress Report and cannot be edited or changed.

The Student Achievements section of the report is used for information regarding Research, Publications, Conferences, Teaching and Plans for the Upcoming Year. The Click for more space link is available in each Student Achievement section if additional space is required for entering information.

The Student Self-Assessment section of the report allows the student to self-evaluate progress in their graduate program including an evaluation of course work, teaching and research. Students have the option of selecting N/A, if appropriate.

Choose an option from the "is the student meeting milestones" drop-down menu. The same evaluation box will appear in your supervisor's portion of the report. This will help you and your supervisor(s) see if your expectations and understandings are aligned.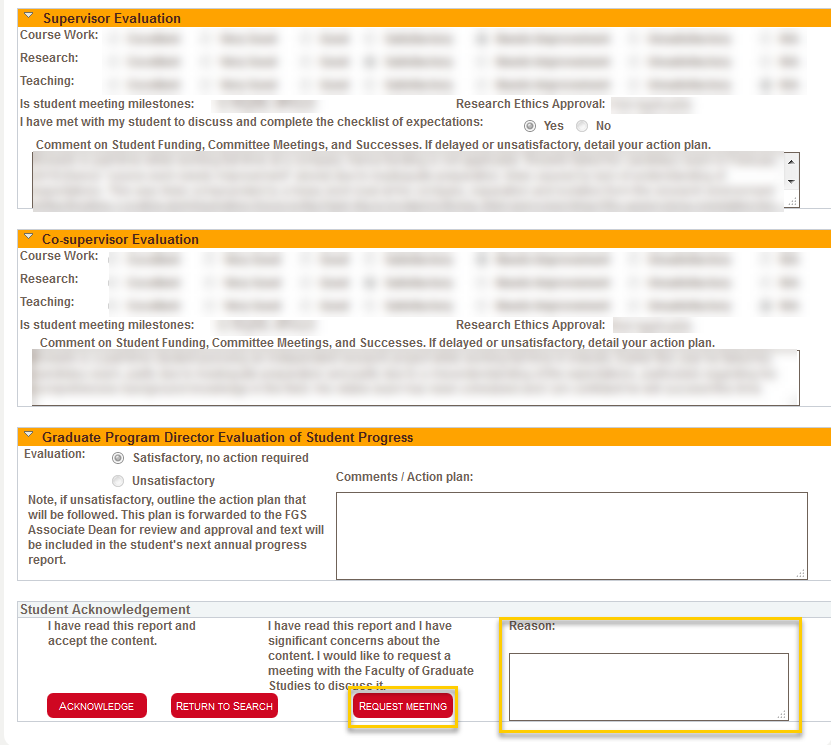 Research Ethics Approvals is a required field. Approval options are:
Approved
Not Applicable
To be Obtained
Select the appropriate value.

Click the Submit button to finalize and send the report to your supervisor and co-supervisor (if applicable). Once submitted, the report cannot be changed.
Note: In the event the report is prematurely submitted, ask your supervisor to use the Return to Student button at the bottom of the form. This will allow you to open and update the
document as required.
The Return to Search button navigates to the Grad Students Annual Progress Report page where you can select a different report to view.
Note: The Grad Student Annual Progress Report will disappear from the To-Do list in your
Student Center once the report has been submitted for evaluation. The Grad Student Annual Progress Report will reappear in the Student Center To-Do list
when: the report is returned for revision, or the report is reinstated.
Email notifications will be received when:
the report is returned for revision
the report receives an unsatisfactory evaluation
when the evaluation process is complete