Graduate Calendar Approval Process
Types of Changes
Please ensure that all changes are submitted with a rationale and proof of approval by the home faculty.
Courses: The Graduate Academic Program Subcommittee (GAPS) is responsible for approving changes to graduate-level courses. In the case of an undergraduate course cross-listed with a graduate course, Calendar and Curriculum Subcommittee (CCS) is the approving body.
Program descriptions: GAPS is responsible for approving changes to program admission requirements, changes to course requirements that don't alter the total course load, and changes to any additional program requirements.
Substantive program changes: Creation/deletion/renaming of programs or specializations and changes to course load require approval by FGS Council, GAPS, APPC and, in some cases, the Province.
Minor editorial changes: These changes include error corrections, changes in administrative information, or revised wording. As long as the proposed changes do not impact programs or courses or do not change the meaning or intent of an entry, they can be entered by the Calendar Coordinator. If in doubt, these changes will be brought to GAPS Working Group for consideration.
Committees involved in the approval of graduate calendar changes
Graduate Calendar Coordinator (grad.calendar@ucalgary.ca) oversees the progress of calendar submissions through these committees and communicates the feedback to the programs.
The GAPS Working Group reviews all calendar submissions and rationales for changes. It will either endorse the changes or request further revisions. Endorsed changes go forward to GAPS for approval (or GAPS and APPC).
Graduate Academic Program Subcommittee (GAPS): The subcommittee serves as an advisory group to APPC for creation, alteration or termination of graduate programs, and for changes in graduate academic regulations. It also approves changes to graduate courses (hours, title and content) and changes to graduate programs' curricula or admission requirements.
Academic Planning and Priorities Committee (APPC): The Committee acts as the final approval authority for the creation, alteration or termination of academic programs.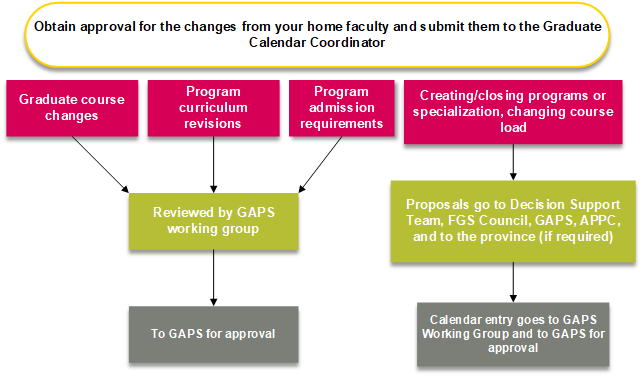 May- August: A new cycle begins
Programs will receive last year's calendar entries to review
Proposed changes must be submitted as "tracked changes", with brief rationales and proof of approval by home faculty
Mid-October: Deadline to submit
The due date for programs to return revised calendar entries to the Graduate Calendar Coordinator
Changes must be approved by home faculty before coming to the Calendar Coordinator
November - February: Review by GAPS Working Group
The Working Group will review proposed changes and either endorse them or send them back for further revisions
The Calendar Coordinator will follow up with graduate programs with feedback from the Working Group. Endorsed changes go forward to GAPS for approval
December-January: FGS sections review
Admissions, Awards, Fees and Academic Regulations sections are reviewed by FGS teams
Proposed changes are submitted to the Working Group
Endorsed changes go forward to GAPS and APPC for approval
December to March: Approval by GAPS
Monthly GAPS meetings to review endorsed changes and approve them
For new/deleted programs or substantial changes to existing programs, further approval by APPC will be required
March: University Calendar goes live
Undergraduate and graduate course listings for the next academic year are posted.
April: Graduate Calendar goes live