Tannin Schmidt, PhD, PEng
PhD in Bioengineering Jacobs School of Engineering Univeristy of California San Diego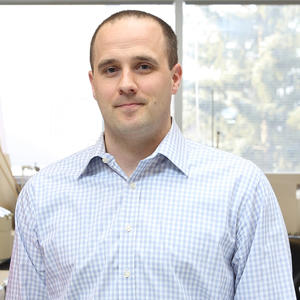 Areas of Research
Biomedical Engineering - Biomaterials & Biotherapeutics
The overarching goal of my research program is to understand the fundamental mechanisms and properties of PRG4, also known as lubricin (a critical lubricating protein found throughout the human body, recently discovered to also have anti-inflammatory properties), at relevant biointerfaces and biomaterials, and to apply that knowledge to the development of PRG4-containing biotherapeutics and biomaterials. Knowledge generated from this multidisciplinary work could ultimately lead to the development of new cell, protein or tissue based biomaterials/biofluids that may: 1) halt or reverse the progressive loss of cartilage after an injury or with aging and arthritis; 2) provide a therapeutically effective treatment, in the form of artificial tears or novel contact lens biomaterials, for those who suffer from dry eye disease; 3) improved performance of clinical biomaterials; and 4) contribute to the effective treatment of inflammatory conditions.
Supervising degrees
Medical Science Masters: Accepting Inquiries
Medical Science Doctoral: Accepting Inquiries
More information
Working with this supervisor
Motivated students with an interest in biomaterials, biotherapeutics, biomechanics, and biochemistry.
Contact this supervisor
Complete the following form if you are interested in working with this supervisor for your Graduate Program. All fields are required, unless indicated otherwise.
Collection of personal information
Your personal information is collected under the authority of section 33(c) of the Freedom of Information and Protection of Privacy Act. If you have any questions about the collection or use of this information, please contact the Office of Advancement at digital@ucalgary.ca